Years of Experience
No surprises, because we know every trick in the book:
The "hot phase" before an event, spontaneous requests for change or delayed data delivery will not bother us anymore.
Deadlines are met. Fullstop.
Exhibits Worldwide
Many of our most exciting exhibits are not only in Nuremberg, Munich or Berlin , but also in other beautiful places in the world, such as:
Shanghai, New Orleans, Detroit, Aberdeen, London, Tallin, Brüssel, Mailand, Madrid, Rom, Istanbul, etc.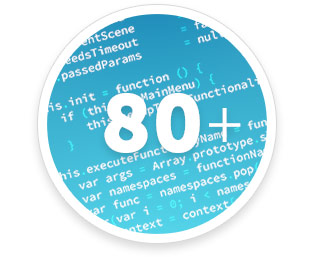 Programming Languages
Our repertoire includes all current high-level languages and technologies. Our current favourites are:
C, C#, C++, C++/CLI, .NET, openFrameworks, WPF, Processing, VVVV, Unity, Unreal Engine, Java, Qt, Objective-C, Swift, Kotlin, PHP, Python, HTML, Sass, TypeScript, Angular, Vue